Protect Against Medical Identity Theft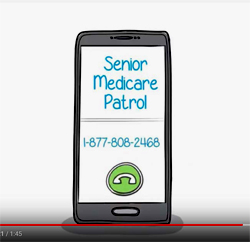 Medical identity theft occurs when someone steals your personal information (like your name, Social Security number, or Medicare number) to get medical care, buy drugs, or submit fake billings to Medicare in your name. Learn how to protect yourself from medical identity theft by watching this video from the Office of Inspector General. Contact your local Senior Medicare Patrol for more information.
SMP Resource Center products often contain links to copyrighted material. The SMP Resource Center is providing these links as a convenience and for informational purposes in our efforts to report and educate on Medicare fraud; they do not constitute a guarantee, endorsement, or approval by SMP of any of the information available on the external site. SMP bears no responsibility for the accuracy, legality, or content of the external site or for that of subsequent links. If you have any questions or concerns about the links provided, please contact the SMP Center at nliebau@smpresource.org.