Physician Sentenced for False Billing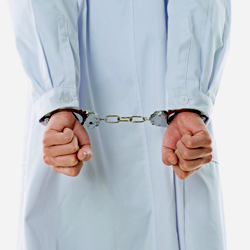 A physician at the now-defunct New England Pain Management Associates Inc. was sentenced to 75 months in prison plus supervised release and over $1.8 million in restitution for conspiring to falsify patient medical records in order to obtain payments from Medicare and commercial insurers for medical services that were not performed. Part of the conspiracy involved descriptions of extensive physical examinations and treatment plans and durations of face-to-face interactions with patients exceeding 20 to 40 minutes per appointment; this created the appearance of lengthy and involved patient encounters when these services did not take place. Read a Department of Justice press release.
SMP Resource Center products often contain links to copyrighted material. The SMP Resource Center is providing these links as a convenience and for informational purposes in our efforts to report and educate on Medicare fraud; they do not constitute a guarantee, endorsement, or approval by SMP of any of the information available on the external site. SMP bears no responsibility for the accuracy, legality, or content of the external site or for that of subsequent links. If you have any questions or concerns about the links provided, please contact the SMP Center at nliebau@smpresource.org.